Calvin Klein CK One Gold Woda toaletowa 100 ml
Calvin Klein CK One Gold Eau de Toilette to nowoczesna interpretacja kultowego zapachu Calvin Klein CK One, wydana w limitowanej edycji w 2016 roku w kolekcjonerskim flakonie zatopionym do połowy w kolorze złota. Flakon został tak zaprojektowany, aby wzbudzać podziw i błyszczeć, z pewnością wspaniale będzie prezentować się pośród innych ulubionych perfum.
Przesłaniem Calvin Klein Ck One Gold towarzyszy hasło: Bądź odważny. Wyróżnij się z tłumu. Wszystko czego dotkniesz, emanuje złotem.
Calvin Klein CK One Gold to hołd dla młodzieży, CK One Gold każdemu obiecuje kroplę złota. Jednoczy ludzi bez względu na wiek, płeć, pochodzenie, zainteresowania, poglądy. Naturalnie czysty, świeży i nowatorski aromat typu uniseks zaciera różnicę pomiędzy kobietami i mężczyznami, spełnia potrzebę dzielenia się wspólnymi wartościami, oddaje poczucie jedności i wolności.
Cytrusowo – aromatyczna kompozycja Calvin Klein CK One Gold Eau de Toilette nastraja pozytywnie i dodaje uroku promiennej młodości.
Bergamotka wraz z soczystą nutą figi w otoczeniu szałwii fascynuje energetyczną świeżością. Stopniowo przechodzi w rozwijający się bukiet jaśminu i fiołka wraz z promienną neroli. Głębi kompozycji nadaje nasłoneczniona wetiweria oraz paczula i drzewo gwajakowe, pozostawiając na skórze intensywne, zmysłowe ciepło zapachu.
Perfumy rekomendowane na każdą porę dnia, doskonale dostosują się do każdej sytuacji.
Nuty zapachowe:   
Nuta głowy - bergamotka, figa, szałwia,
Nuta serca - fiołek, jaśmin, neroli,
Nuta bazy - drzewo gwajakowe, paczula i wetiweria.
Year Introduced:

2016

Design House:

Calvin Klein

Line:

CK One Gold

Category:

Unisex Perfume

Concentration:

Eau de Toilette

Quantity:

100 ml/3.4 oz

Fragrance gender:

for Women and Men

Flacon Designer:

Fabien Baron

Scent classification:

Citrus Aromatic

Top notes:

bergamot, fig, sage,

Heart notes:

jasmine, neroli, violet,

Base notes:

Guaiac wood, patchouli and vetiver.

Recommended use:

Day, Evening

Seasons:

Spring, Summer, Autumn

Country of origin:

France

EAN:

3614221537763

Packing:

new in a designer box, original

Additional information:

Limited edition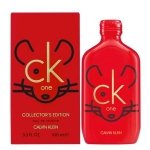 85,00 PLN
You save 7.00 PLN