Escentric Molecules Escentric 01 Woda toaletowa 100 ml - Tester
Perfumy Escentric Molecules Escentric 01 to kwiatowo – drzewno – piżmowa kompozycja zapachowa. Rozpoczyna się świeżością zielonej limonki i pikantnego różowego pieprzu w towarzystwie wibrującej molekuły Iso E Super, wzbogaconej o aromat benzoesu, kadzidła, mastyksu czyli naturalnej żywicy z drzewa pistacji, nut balsamicznych i piżma.
Iso E Super® to handlowa nazwa syntetycznego zapachu ketonu, to drzewny środek odorujący. Molekuła powstała w laboratoriach International Flavors & Fragrances w 1973 roku, stosowana jest jako składnik utrzymujący głębię oraz trwałość zapachu w przemyśle kosmetycznym i perfumeryjnym.
Woda toaletowa Escentric 01 marki Escentric Molecules po raz pierwszy ukazały się na rynku w 2006 roku, w duecie z Molecule 01.
Jak pachnie Iso E Super w bukiecie kwiatowo – drzewno – piżmowym Escentric 01. Z pewnością niezwykle i osobliwie. Ten nieodgadniony aromat, na każdym pachnie inaczej i za każdym razem inaczej, każdy z nas w inny sposób odbierze jego woń. Na tym polega jego magia, to jego nieodkryta tajemnica.
Nuty zapachowe:
Nuta głowy - różowy pieprz, zielona cytryna,
Nuta serca - ISO-E-Super,
Nuta bazy - benzoes, kadzidło, mastyks, nuty balsamiczne i piżmo.
Year Introduced:

2006

Design House:

Escentric Molecules

Line:

Escentric 01

Category:

Unisex Perfume

Concentration:

Eau de Toilette

Quantity:

100 ml/3.5 oz

Fragrance gender:

for Women and Men

Perfumer:

Geza Schön

Scent classification:

Woody Floral Musk

Top notes:

pink pepper, green lime,

Heart notes:

ISO-E-Super,

Base notes:

balsamic notes, benzoin, frankincense, mastic resin and musk.

Recommended use:

Day, Evening

Seasons:

Spring, Summer, Autumn, Winter

Country of origin:

The United Kingdom

EAN:

8595562233925

Packing:

tester, unbox

Additional information:

Tester means that the perfume was manufactured by the designer for promotional purposes only.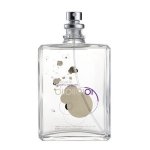 299,00 PLN
You save 10.00 PLN